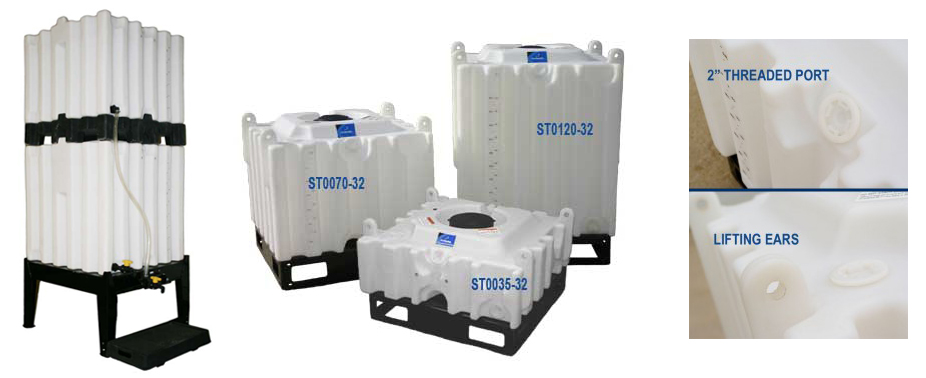 DEN HARTOG STACKABLE TOTES
STACKABLE TOTES ARE FREESTANDING TOTES FOR INDOOR OR OUTDOOR STATIONARY OR TRANSPORTABLE APPLICATIONS (NON DOT APPROVED). FOUR LIFT EARS ARE PROVIDED FOR LIFTING EACH TOTE. A 4-WAY FORKLIFT ACCESSIBLE SKID IS AVAILABLE FOR HANDLING THE TOTES. TOTES ARE MANUFACTURED FROM HIGH-DENSITY POLYETHYLENE WITH U.V. STABILIZERS. STANDARD WEIGHT TOTES ARE DESIGNED FOR CHEMICALS WITH A SPECIFIC GRAVITY OF 1.5 OR LESS. GALLON INDICATORS ARE INCLUDED ON ONE SIDE OF THE TOTES FOR CALIBRATION.
VIEW A PDF VERSION OF OUR STACKABLE TOTE FEATURES AND ACCESSORIES.
DISCOUNTED ITEMS ARE SUBJECT TO STOCK ON HAND AT THE ALPINE LOCATION ONLY
* CLICK ON PART NUMBER  BELOW TO VIEW PDF DRAWING *
(IF VIEWING ON A MOBILE DEVICE, SCROLL THROUGH TABLES BY SWIPING LEFT)
| PART NO. | PRICE | CAPACITY | WEIGHT | DIMENSIONS | LID |
| --- | --- | --- | --- | --- | --- |
| ST0035-32 | $105.50 | 35 Gallons | 30 lbs | 30 x 30 x 8 | 7″ |
| ST0070-32 | $124.30 | 70 Gallons | 42 lbs | 32 x 32 x 25 | 7″ |
| ST0120-32 | $189.15 | 120 Gallons | 77 lbs | 32 x 32 x 38 | 7″ |
| ST0180-42 | $282.52 | 180 Gallons | 126 lbs | 42 x 42 x 35 | 7″ |
| ST0240-42 | $346.60 | 240 Gallons | 164 lbs | 42 x 42 x 45 | 7″ |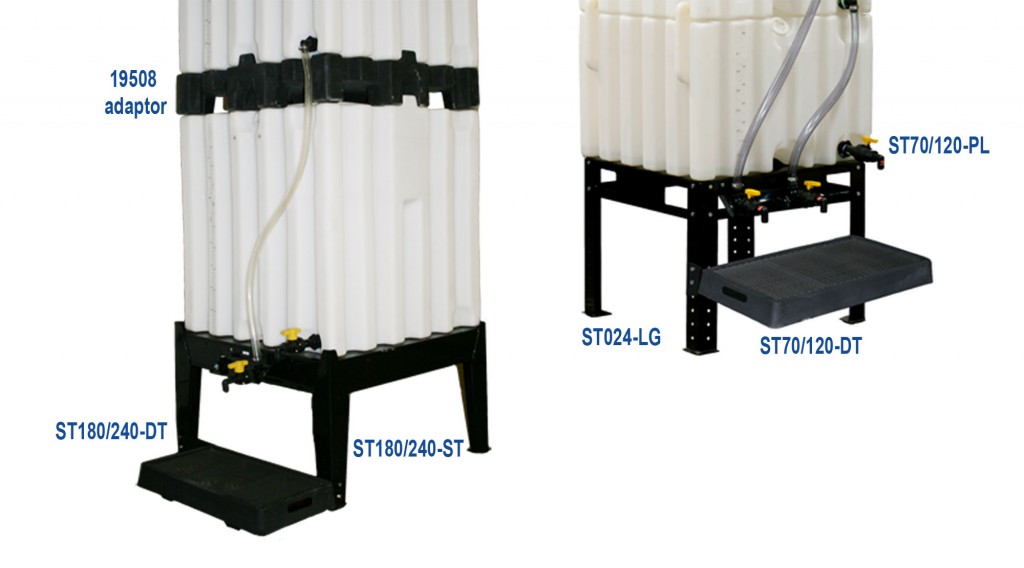 DEN HARTOG STACKABLE TOTE ACCESSORIES
* CLICK ON PART NUMBER  BELOW TO VIEW PDF DRAWING *
(IF VIEWING ON A MOBILE DEVICE, SCROLL THROUGH TABLES BY SWIPING LEFT)
| Part No. | Price | Description | Weight | Dimensions |
| --- | --- | --- | --- | --- |
| ST70/120-SK | $86.45 | 35, 70 or 120 Gallon Steel Skid | 50 lbs | 30 x 30 x 8 |
| ST180/240-ST | $155.80 | 180 & 240 Gallon Steel Stand | 175 lbs | 44 x 44 x 27 |
| ST70/120-DT | $82.45 | 35, 70 or 120 Gallon Drip Tray Kit | 15 lbs | 5 x 20 x 35 |
| ST180/240-DT | $91.55 | 180 & 240 Gallon Drip Tray Kit | 17 lbs | 5 x 20 x 46 |
| ST70/120-PL-1 | $17.15 | 35, 70 or 120 Gallon Plumbing Kit | | |
| ST70/120-PL-2 | $94.45 | 35, 70 or 120 Gallon Plumbing Kit | | |
| ST70/120-PL-3 | $127.45 | 35, 70 or 120 Gallon Plumbing Kit | | |
| ST024-LG | $76.40 | 35, 70 or 120 Gallon 24″ Leg Kit | 24 lbs | 5 x 5 x 26 |
| ST036-LG | $91.15 | 35, 70 or 120 Gallon 36″ Leg Kit | 70 lbs | 8 x 8 x 41 |
| 19508 | $81.55 | 180 & 240 Gallon Tote Adaptor | 55 lbs | 42 x 42 x 10 |
| Part No. | Price | Description | Weight | Dimensions |
| --- | --- | --- | --- | --- |
| ST70/120-SK | $86.45 | 35, 70 or 120 Gallon Steel Skid | 50 lbs | 30 x 30 x 8 |
| ST180/240-ST | $155.80 | 180 & 240 Gallon Steel Stand | 175 lbs | 44 x 44 x 27 |
| ST70/120-DT | $82.45 | 35, 70 or 120 Gallon Drip Tray Kit | 15 lbs | 5 x 20 x 35 |
| ST180/240-DT | $91.55 | 180 & 240 Gallon Drip Tray Kit | 17 lbs | 5 x 20 x 46 |
| ST70/120-PL1 | $17.15 | 35, 70 or 120 Gallon Plumbing Kit |   |   |
| ST70/120-PL2 | $94.45 | 35, 70 or 120 Gallon Plumbing Kit |   |   |
| ST70/120-PL3 | $127.45 | 35, 70 or 120 Gallon Plumbing Kit |   |   |
| ST024-LG | $76.40 | 35, 70 or 120 Gallon 24″ Leg Kit | 24 lbs | 5 x 5 x 26 |
| ST036-LG | $91.15 | 35, 70 or 120 Gallon 36″ Leg Kit | 70 lbs | 8 x 8 x 41 |
| 19508 | $81.55 | 180 & 240 Gallon Tote Adaptor | 55 lbs | 42 x 42 x 10 |