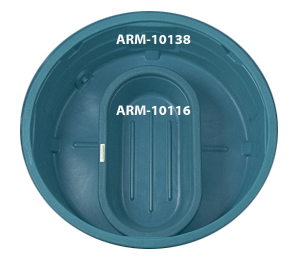 STOCK TANKS ARE DESIGNED FOR PORTABLE LIVESTOCK WATERING. TANK TOPS, SIDES AND BOTTOM ARE RIBBED FOR STRENGTH. DRAIN PLUG IS PROVIDED ON ALL TANKS EXCEPT 124 MODELS. TANK MODELS ARE NESTABLE FOR SHIPPING AND STORAGE. TANKS ARE MANUFACTURED FROM U.S.D.A.-COMPLIANT LOW-DENSITY POLYETHYLENE WITH U.V. INHIBITORS AND DESIGNED FOR CONTAINMENT OF LIQUIDS OF UP TO 1.0 SPECIFIC GRAVITY.
* CLICK ON PART NUMBER  BELOW TO VIEW PDF DRAWING *
(IF VIEWING ON A MOBILE DEVICE, SCROLL THROUGH TABLES BY SWIPING LEFT)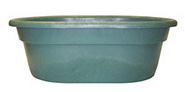 (IF VIEWING ON A MOBILE DEVICE, SCROLL THROUGH TABLES BY SWIPING LEFT)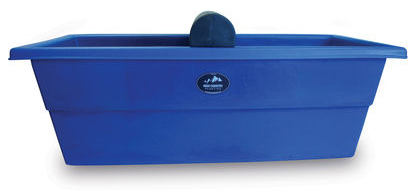 HIGH COUNTRY 75 GALLON AUTO WATER TANK
75 GALLON W-SERIES STOCK TANK IS ROTATIONALLY MOLDED WITH HIGH QUALITY, FDA APPROVED, UV PROTECTED, IMPACT RESISTANT POLY TO ENSURE UNIFROM THICKNESS AND STRENGTH FOR UNRIVALED DURABILITY. ALL EDGES HAVE BEEN ROUNDED FOR ANIMAL SAFETY. THE ONE PIECE CONSTRUCTION ELIMINATES CRACKING AND SPLITTING THAT'S COMMON IN PLASTIC-WELDED, TWO PIECE TANKS. FLOAT VALVE ASSEMBLY CONSISTS OF – BRASS 3/4″ FLOAT VALVE, 5″ FLOAT BALL, 10″ BRASS ROD, 3/4″ PVC SWIVEL ADAPTER. SERRATED ARM ALLOWS FOR EASY WATER LEVEL ADJUSTMENTS. THE FLOAT VALVE ASSEMBLY IS NEATLY CONCEALED UNDERNEATH THE BLACK POLY COVER. THE COVER PREVENTS ANIMALS FROM ADUSTING OR BREAKING THE VALVE ASSEMBLY. BULK HEAD DRAIN PLUG KIT IS PROVIDED WITH THIS TANK, PART # BK-DR. IF THE STOCK TANK GETS A SMALL LEAK DUE TO UNFORSEEEN CIRCUMSTANCES, SUCH AS A BULLET HOLE, IT CAN BE BRAZE WELDED WITH A COMMON BUTANE TORCH TO FILL THE HOLE. INDUSTRY LEADING 5 YEAR WARRANTY THAT IS BACKED 100% FROM THE DATE OF PURCHASE. ASH GRAY COLOR.
(IF VIEWING ON A MOBILE DEVICE, SCROLL THROUGH TABLES BY SWIPING LEFT)
| | | | | |
| --- | --- | --- | --- | --- |
| PART NO. | ALPINE PICKUP | CAPACITY | WEIGHT | DIMENSIONS |