Blow Mold Inductor Tanks with Poly Stand Set
Blow Mold Inductor Tanks with Poly Stand Set
Part Number
Alpine Pickup
Capacity
Weight
Dim
Lid
Fitting
IBFD15-SET
15 Gallon Full Drain
23
19″ x 22″ x 33″
12″
2"
IBFD35-SET

35 Gallon

Full Drain
41
25″ x 25″ x 43″
12"
2"
IBFD60-SET
60 Gallon Full Drain
47
25″ x 25″ x 55″
12"
2"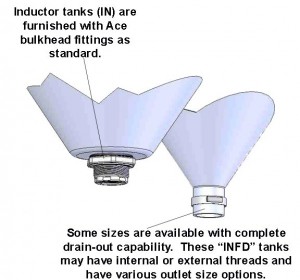 DEN HARTOG INDUCTOR TANKS

Beer & Wine Fermentation Tanks 
Inductor Tanks are selected as supply tanks for application systems and when a more complete drain out of stored liquids is required in indoor or outdoor applications. Tanks require stands to support the conical bottoms. Tanks are manufactured from medium-density polyethylene with U.V. inhibitors and designed for containment of liquids of up to 1.7 specific gravity. Tank walls are translucent for level viewing and equipped with gallon indicators.
DEN HARTOG FULL DRAIN INDUCTOR TANKS
Part Number
Alpine Pickup
Capacity
Weight
Dim
Lid
Fitting
INFD10-15†
10 Gallon Full Drain
10
15 x 25
8″
1 1/2″ FPT BOSS
INFD15-19†

15 Gallon

Full Drain
15
19 x 27
12"
2" FPT
INFD30-24†
30 Gallon Full Drain
15
24 x 33
12"
1 1/2″ FPT
INFD55-24†
55 Gallon x 24 Full Drain
22
24 x 46
12″
1 1/2″ FPT
INFD110-30
110 Gallon Full Drain
44
30 x 56
12"
2" FPT
DEN HARTOG FULL DRAIN INDUCTOR TANK STANDS
Part Number
Alpine Pickup
Capacity
Weight
INFD7/10-ST†
10 Gallon - 15" diameter tanks
12
INFD15-ST†
15 Gallon - 19" diameter tanks
16
INFD30/55-ST
55 Gallon - 24" diameter tanks
19
INFD110-ST
110 Gallon - 30" diameter tanks
40